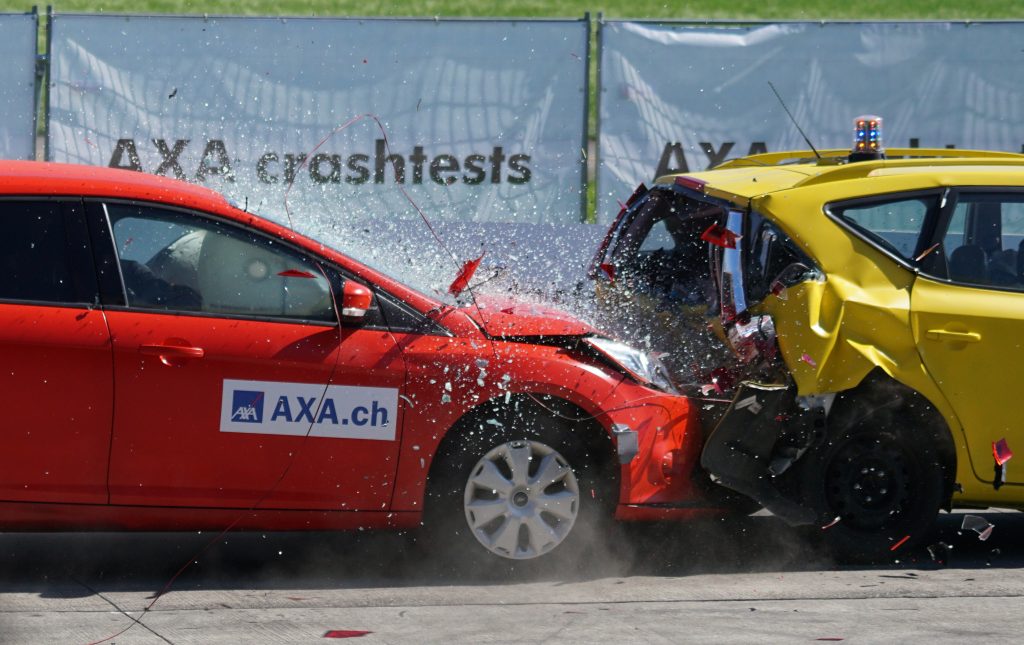 Have you ever been rear-ended while stopped at a red light, or do you know anyone who has? If this is the case, take heart for the fact that you are not alone. Most are minor, and the destruction to the rear-ended vehicle is usually minor, such as a broken tail light or cracked bumper.
However, even minor rear-end fender benders can induce severe, underlying issues with your car that may not show up for a while—problems that could jeopardize your safety and the safety of your passengers. A severe rear-end collision can cause the leakage of oil from your car. Following article will tell you what other things a rear-end collision can cause.
What Is Rear-End Collision?
Typically, a rear-end collision occurs when one vehicle collides with another car from the rear. Rear-end collisions can result in severe injuries to both the driver and the passenger. These injuries can range from permanent disabilities to life-changing injuries in some cases.
In general, the severity of injuries will be determined by several factors. Initially, you will have an idea of how severe the damages will be due to the collision. These various factors are detailed below:
When one driver refuses to deliver the other driver a warning, the other driver seems unable to manage the collision.
The accident's principal impact. As a result, sudden movement has a significant effect on the driver and passengers.
The direction of the accident sometimes determines the severity of an accident
The one major problem which every driver faces whenever their car collides is oil leakage. This complaint comes from almost every driver after their car gets hit by a big rock or tree. There can be other reasons too. In the following paragraph, those other reasons are mentioned.
How Rear-End Collision Leads To Oil Leakages
1) Oil Gaskets or Pans That Have Been Damaged
Because they are kept at the bottom of the engine, your vehicle's oil pans and gaskets are easily destroyed by rear-end collision. Rough roads can cause a hole, resulting in an oil pan leak. The pan's sealant is reported to suffer from a lot of excessive wear, and it can also become damaged, resulting in an oil gasket leak.
2) Installation Errors
It is possible that one of the gaskets that maintain the oil inside was installed incorrectly. This most commonly occurs when the oil pan gasket or valve cover gasket is retightened. It can also happen if the tightness is not distributed evenly. Another cause could be an improperly attached oil filter, as motor oil constantly flows through it, and if it's loose, you could experience a leak. So when your car collides, installation errors lead to oil leakage
3) Rings or Valve Seals That Have Failed
Leaking chains or cylinder seals can also contribute to your vehicle's oil loss. Nevertheless, if there are no holes in your gaskets, the oil will not be used outside the engine and will be destroyed in the burning process, so you will not start noticing it.
Regardless of the actual cause, it is critical to stop an oil leak as soon as possible, so take your vehicle to a Meineke location. So when rear-end collision takes place, following an oil leak, you may notice the smell of burnt oil, accompanied by dark smoke and, eventually, major engine harm. Do not put off repairing collision damage.
What Other Damages Can Be Caused By Rear-End Collision
The problematic part about rear-end collision damage is that it is frequently difficult to detect with the unaided observer. Even if your vehicle seems to be in perfect condition, there may be issues beneath the surface that will only worsen over time.
Rear-end collision destruction not only enhances the look, features, and value of the vehicle but can also jeopardize your safety. For instance, if your bumper is damaged, it will be unable to take the heat and protect you in the prospective accident
1) Rear-End Collision Cause Alignment Problems
Alignment issues are a common type of damage that occurs after a rear-end collision. If your car starts to pull to one side of the road while driving, this could indicate a problem with its alignment. Furthermore, if you see any of the following symptoms, there is most likely an alignment issue:
The car vibrates
squeaky steering
Tire wear can be rapid or uneven.
The steering wheel is twisted.
Tires squeaking
2) Rear-End Collision Can Damage the Engine
The engines found in today's automobiles are highly complex and delicate. Unfortunately, rear-end accidents have the potential to degrade engine efficiency. If your car's "check engine" light comes on after being in a collision, you should take it to a mechanic right away.
Furthermore, transmitting elements near the rear of rear-wheel-drive (RWD) and all-wheel-drive (AWD) vehicles can be affected in collisions. Your car leakage oil level or experiencing problems with acceleration and shifting are both indications that your transmission has been dented.
3) Rear-End Collision Cause Suspension Problem
The suspension system of a vehicle is critical to maintaining vehicle control and providing a smooth ride. The rear suspension, in essence, maximizes the turbulence between the tires and the road, allowing the driver to steer and handle the vehicle. It protects both the passengers and the car by mitigating the effects of traffic conditions.
The ride will be harsh, and your car will be hard to control if your vehicle's suspended sentence isn't functioning correctly. If you leave the car in this condition, it will only deteriorate and jeopardize your security and the value of your vehicle.
4) Rear-End Collision Can Lead Electrical Issues
Vehicles today are more technically advanced than ever before. Even a light tap can cause the wires to your rear lights, braking systems, or battery to loosen.
Each of these components is critical to staying safe on the road, so it's vital to keep them in good condition—especially after a collision. In most cases, a technician will be required to inspect your vehicle's electronic systems.
Have Your Vehicle Fixed at ProTec Collision Repair
When your car has been engaged in any type of rear-end collision, even if the damage appears to be simplistic, don't risk underlying issues that could jeopardize your safety later, such as oil leakage and other technical problems. Instead, take it to a reputable auto repair shop like ProTec Collision Repair to have the destruction checked from the inside out.